Title: Learning to swim.
Rating: G
Fandom: Kingdom Hearts
Pairing: RikuSoraKairi
Cross posted to:
_threescompany_,
khshippers
Babble: So instead of working on my last art concentration in college, I was cramping, feeling rather pissy and lamenting the lack of decent RikuSoraKairi fanarts and bemoaning D*sney's fan-art policies when I started drawing this. Frey got ahold of it and turned Flounder into a raving, baby eating lunatic, but alas, I had to erase him. Bry went retarded and was like "OMGMERMAIDS, DRAW MERMAIDS." So I did.
sfdlkajshfssohappywithit. I love Sora's not-arse. *__*
And as my scanner is a douche and does not like sketchbooks, it gets rather blurry at the end. Woe.
And, beware the gigantic watermark. All finished pieces will not have this. D: (And, oooooh, do I have plans for this. If I have enough finished pieces by the time Yaoicon comes around I may just have a booth. :D )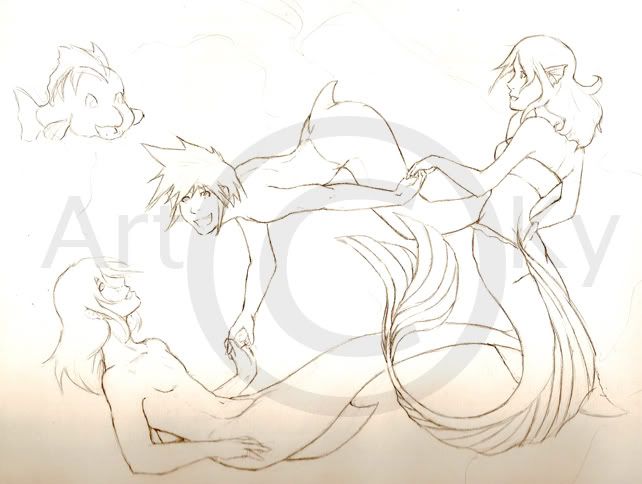 It took forever to convince Riku to go along with it, but as his friends got used to their fins he couldn't help but grin at the way their eyes lit up.

Bonus!




FLOUNDER LOVES BABIEZ GUYZ, LOL.